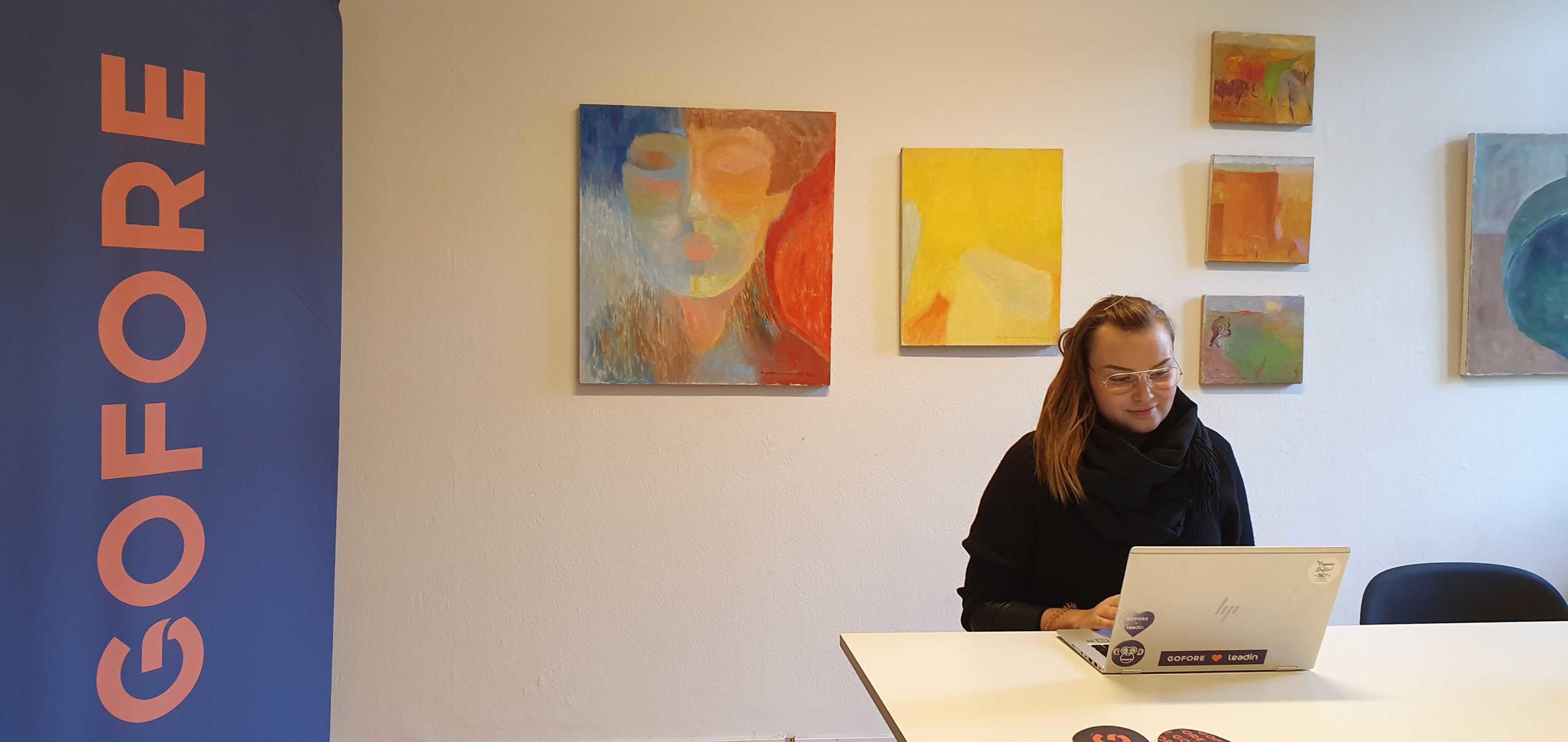 I've been working as a UX-designer at Gofore for two years now.  My core skills are UI design, visual design, graphic design, prototyping and user studies. Service design is also close to my heart and luckily there is some overlap between the processes within UX design and service design.
One of the reasons that I work with technology is that it is closely related to my family. When I was little my father had a great career at Nokia. I think all three of us children were impressed with dad's work: he made the technology industry look exciting and important. I don't think any of us could tell what dad actually did for his job, but it sounded exciting anyway. Most importantly, I realised at a young age that the technology industry is the future. So, it's not a surprise that I was already leaning towards the tech industry before I even realised it myself.
Both of my big brothers became interested in the tech industry at an early age and headed to the world of coding. However, I was attracted to visual design, different services and the desire to understand users' needs. After high school I became an artisan and then went to Turku University of Applied Sciences to study design. The studies immediately felt right for me and I was excited about the program. However, finding the context was difficult because I did not consider myself in the world of traditional materials. Textiles, wood, metal and plastic all seemed strange to me. Traditional product design was far from what I wanted to do in the future. When I got familiar with service design, I felt relief that I was now moving in the right direction. Service design was not tied to a context or physical material. It was something bigger and more comprehensive.
When it came time to look for an internship, there were no other options for me than IT companies. I had a great desire to try a position in which I could pursue my own professional development. At the end of the application process I didn't get an internship, but an actual job from Leadin, which Gofore later bought. It was truly a dream come true. My whole application process was long and at times really challenging and I really know how it tests your self-confidence. But if you have a clear goal and you are able to use feedback for self-reflection, you are very unlikely to fail.
Still today, almost my entire family is in the technology industry: my two brothers are Software Developers and my dad is a Project Manager. I enjoy my work every day because my projects vary a lot: from sector to sector, from one industry to another. My work is all about understanding the users' needs and that is my passion.
In my opinion you can end up in tech-industry through many different ways. After all, my studies hardly emphasized this area, actually vice versa: traditional materials were still popular. I don't think you need to know everything about the field in advance. Even though my mindset was towards tech-industry, I knew little about the industry itself. I just learned it through practice and dived deep into unknown. My best advice is just to be brave, curious and just do your best.

A failure I learned from: Long recruitment processes and many no-responses. Through failures and feedback, I got an idea of ​​the direction in which I should develop myself. Honest and objective self-reflection was the most valuable skill that I learned from the recruitment processes.
Psst, we are attending the Women in Tech Forum, so if you have any questions or just wanna have a chat, meet us there. More information: https://womenintech.fi/week-forum-2019/ 
Read the previous part of this blog series here:
Working as a woman in tech