I had been an entrepreneur for a couple of years in Jyväskylä and was at a turning point in my career. My friend invited me to participate in Star Wars movie night organized by Gofore and I thought to myself "why not". I had been interested in the company prior since I had had some friends work there. I had heard that the company is a good place to work in so I was interested already in working opportunities at the company.
After the movie, I questioned my friend about the company and their story was aligned with what I had heard. The daily work-life sounded pretty much what I expected the work of a consultant to be. We had done customer projects while working as an entrepreneur so taking a leap with Gofore sounded like a natural fit for me.
I contacted the site lead of Jyväskylä and he instructed me to send an application on the Gofore website to get the process rolling. The process consisted of 3 interviews: defining my fit as a consultant, technical prowess and perk, and salary negotiation. The technical interview included coding live, which feels awkward as ever. I got a decent salary and as a very nice perk, a few weeks of paid holiday (without lomaraha). Normally when starting in February one would only get a few day's worths of holiday.
Taking initiative is important
The last negotiation was at the end of January so there was still a week or so until I actively started at the company. Before that I got to fill my Hohto-profile that is used to find meaningful client projects. I got to select the equipment that I am currently writing this blog post with and do my normal software development work. I wanted to go with OnePlus 7T as my working phone since it had enough power to use on the go but didn't seem that overpriced. And last I got to take a picture with a professional photographer. I was blinking constantly, which didn't help the process, but we got the picture taken. These all were count as working hours that I could take back later when the actual work started.
In many of these things I got to be very self-initiative – in good and in bad – as is with everyday working in the company. Nobody is there to order you to do things but one must take initiative and make decisions themselves. The Company does its best to support decision making to allow people to make hopefully the best decisions for themselves and the company. It was nice that since the Hohto-work had been done in advance I was enrolled to start in a project during my first weeks. Unfortunately starting in the project required a security checkup.
The freedom and responsibility that are offered working here are both frightening and refreshing. My biggest hardship was to fight the quilt I had for not being able to start in my customer project. The project required a security checkup made by an official source (often called tursel). While waiting I did some work on 2 internal projects and practiced my skills in the areas that could be useful for the upcoming project.
Getting to know my new colleagues before corona
Nobody directly ordered or denied me from going to my first learning opportunity inside the company "Fundamentals of working as a consultant" in the Tampere office. Another reason for this trip was to make contact with soon-to-be teammates face-to-face. It helps to know the faces you are working with. It was nice to also get to know my new colleague better that was in a similar situation: just started in the company, waiting for tursel and joining the same project.
Gofore Jyväskylä was in the middle of moving to a larger office at the center of Jyväskylä. We had barely been able to move to the new office and set up our desks when the company declared a remote-first corona policy, as was the government's recommendation. I had set up my desk and was able to at the new office for merely a few days before this took place. It was unfortunate to not be able to meet new colleagues more before jumping in on the project but it was also nice that I had had a glimpse of people that I was talking to on Slack.
Thankfully around at the same time, I had been able to start in the customer project and got to do some coding in that project. Not being in the new office was not that big of a deal since half of the project team worked further away anyways. At the start we had plenty of telcos (slack and teams calls) to get things rolling and it was good to start coding in a new project with another person. We could share our insights on the project that we had accumulated doing feature X and both of us got to learn new things during this back and forth exchange of knowledge.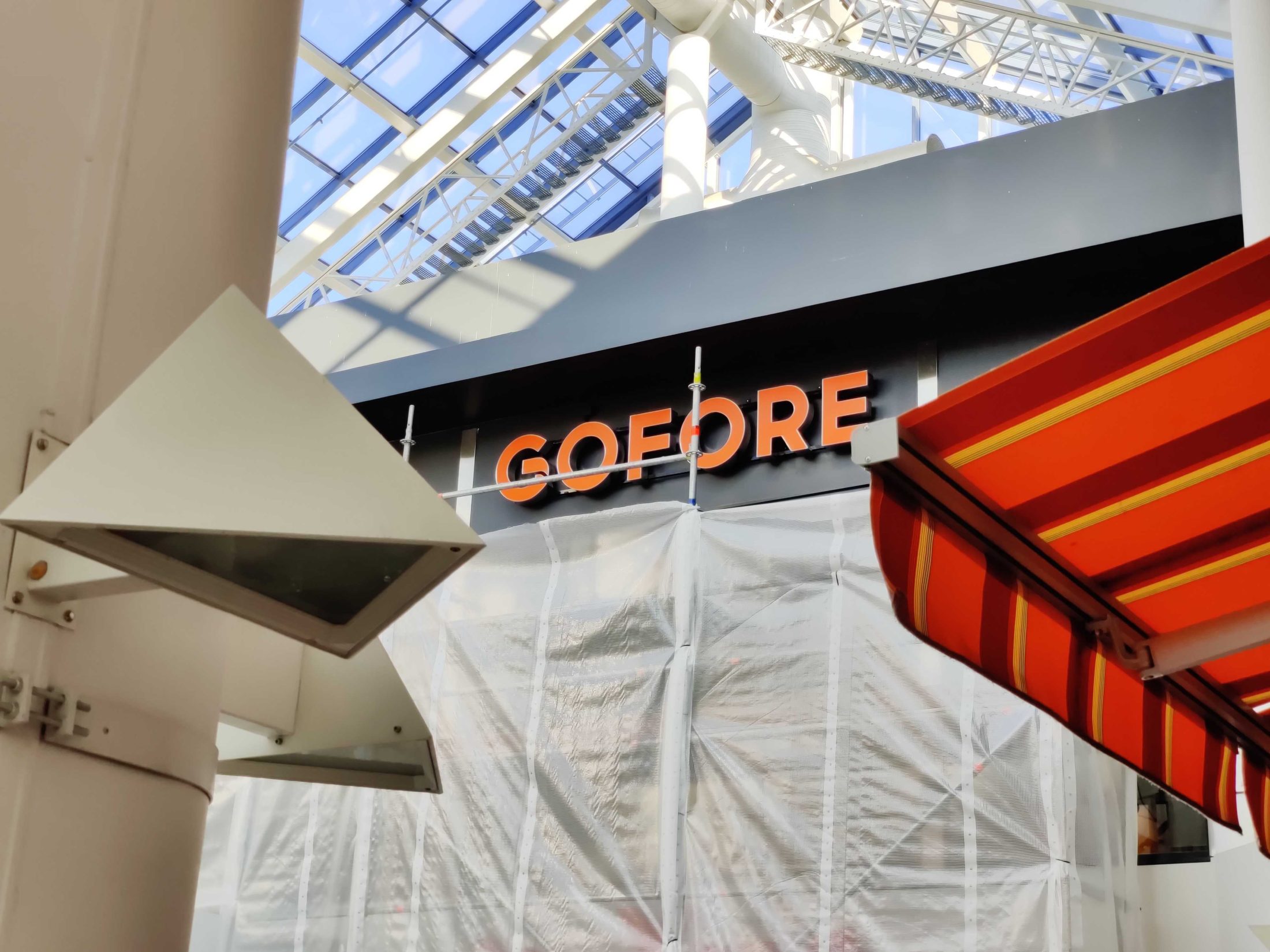 Photo: Gofore Jyväskylä office visible from Jyväskeskus
Balancing work and everything that happens in life
The working life during corona was pretty straightforward. Wake up, eat something and brush teeth and walk 2 meters from kitchen to computer. Start the day by browsing features or continue one that had been started earlier. Dailies are also a good time to talk with teammates since there's far less natural contact with workmates – no talking during coffee breaks or in the hallway or can't go to their desk to ask or discuss something.
The year, in general, has been somewhat of a roller coaster for me. Starting a new job, a close person dying, corona, getting married in midst of all of this, and so forth. I can be thankful since there haven't been any problems fitting my holidays to align with wedding plans, or to be able to take a day or hour off to arrange things that needed to be done. I have had to just take initiative to secure that there won't be problems with the project I am working in. And for this work and life balance, I can sincerely recommend Gofore as a working place for you. You can read more in Finnish about Gofore as a workplace from our blog.
You can also see the currently open positions at https://gofore.com/en/careers/ or just send on an open application if you think you could be a fit for Gofore.
Also, I'd be happy to answer questions regarding my journey so far or things that tickle your curiosity.