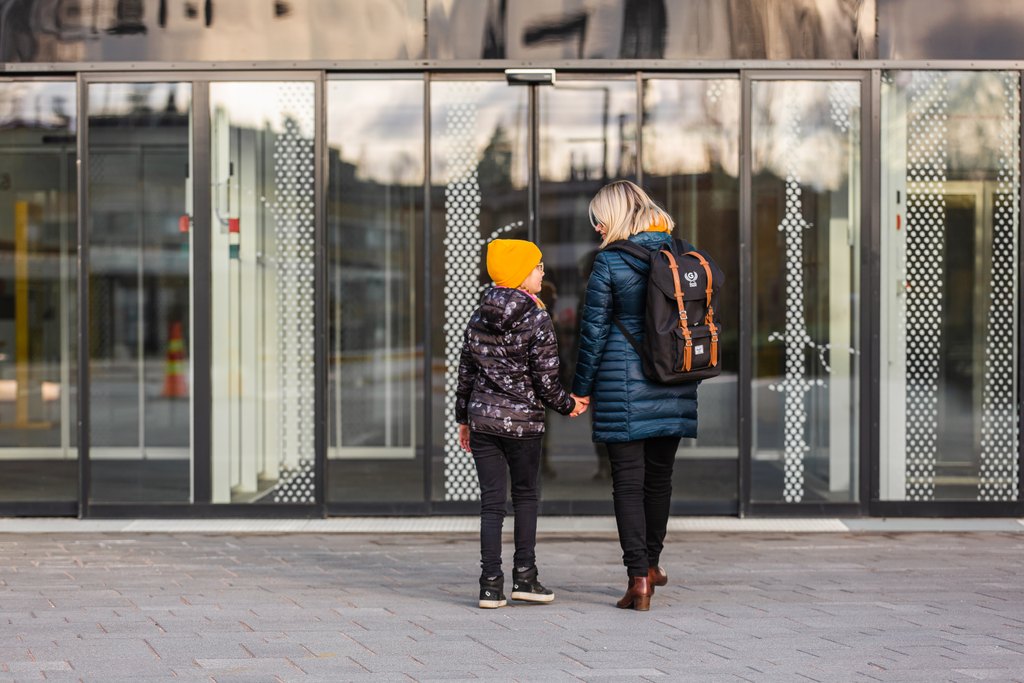 Information on parenting and learning is crucial for families. Gofore is involved in several Finnish early childhood education projects, aimed at creating better digital services for families. The projects are also important steps towards creating smarter cities.
A child's education path begins in day care and continues far beyond. Ensuring a smooth and happy daily life depends on understanding how a child experiences and explains an issue to its parents, as well as communication between parents and day care and teaching staff.
A tremendous amount of knowledge is accumulated along the learning path – even before day care begins. Can we use such knowledge to make everyday life smoother and happier? Can we provide services which families with children do not yet have – or develop activities currently viewed as challenging? Although the key communication forum is the dialogue between parent and child, we can develop other interaction through digitalisation.
Gofore is involved in several early childhood education development projects in Finland. In addition to improved service interaction for families with children, a smarter city is being built. Data can be used to make everyday life easier and respond proactively to residents' service needs.
"At Gofore, we are strongly involved in the SmartCity development project, exploring how to use data more intelligently for the benefit of urban citizens, and how it can help people to make smarter and more sustainable choices," says Simo Turunen, Business Manager, Cities, at Gofore.
Towards a unified digital education path in Helsinki
Day care centres in Helsinki have lacked a digital system that enables communication between early childhood education professionals and parents. This is now being developed, while shaking up digital systems along the entire education path. Wilma, the school communication system used in Helsinki schools, is obsolete and must be developed alongside other services.
The development project for ASTI (common transaction information system), a public interaction system launched in Helsinki, aims to create a unified digital education path for children: from early childhood education through to secondary school. This is an outstanding opportunity to consider what we really want from a digital interaction system – now and in the future. Gofore is strongly involved in developing a digital system for early childhood education. For Simo, the project involves a much larger mission than this suggests.
"The public debate in Helsinki has largely been about replacing Wilma, but we need to see the bigger picture. Digital systems for teaching and early childhood education will become much more comprehensive, service-oriented and customer-friendly." 
Towards development and an end result that responds to change
Digitalising early childhood education in Helsinki is no small project, but a joint development effort that will take years. Our multi-talented team at Gofore will ensure that future technology meets the requirements in question, and works. In addition, the collaboration between the public and private sectors will be strengthened, as city officials join forces with software development teams to shape development work.
"If we just go ahead and make a 'finished' product, it will be obsolete in 10 years' time. People love digital products, but who ensures that such products are kept up to date? Deeper cooperation between businesses and the public sector will provide a range of opportunities for urban service development," Simo explains.
Developing – or creating new and better –  services is not always about big investments and budgets. It is more about challenging existing practices and taking them to a new level. Can we genuinely create savings by developing our current practices and activities?
Gofore has a strong track record of steady development of urban services through agile development principles. Instead of thinking that we know everything from the start and working to a pre-set plan, we believe in moving forward on a thoughtful and collaborative basis.
"By identifying current operational problems and finding user-friendly solutions in close collaboration with a range of stakeholders, we can create well-functioning services and ease the everyday lives of residents," says Simo.