There is a lot of debate these days about cloud service management, management models and Governance in general. However, when you talk to customers about them, it seems that many people have quite different ideas about the terms and concepts.
For some, a management model is a technical document that describes how a cloud service has been built in, say, Azure, and how it should be operated, what features the cloud service provides, and how the environment is maintained.
Others think it's a description of all the activities run around cloud services. What the responsibilities are, how your Cloud Center of Excellence is manned and what support functions are required for a holistic approach based on the cloud.
We at Gofore help our customers at every stage of their cloud journey, so I'll share some of my experiences of the topic.
Today's reality
Many Finnish companies and organisations have adopted a variety of cloud services. Microsoft 365 may be used by the entire organisation, while marketing may use HubSpot, the Data and AI team is crunching away data in Azure, and some developer may have decided to add an important test environment to Google Cloud. They're all saying that their environments are under control and everything's working just fine. But is it really? This is a common situation these days, and fewer and fewer organisations have common rules for operating the above services.
So what do you need such rules for?
Cloud services attract plenty of interest in organisations, everyone seems to have an opinion, and sometimes people can't see the wood from the trees. Opinions are presented as facts when talking about data security or data protection, services are ordered without proper processes, and invoicing is done easily using credit cards. Doesn't seem like a particularly solid foundation.
Although we at Gofore love technology, especially the opportunities it presents, we want to help our customers create the best possible basis for sustainable utilisation and scaling.  Cloud governance model should also take account of all the boring non-technical aspects required to make day-to-day operations and business run smoothly.
Basis of a good cloud governance model
A good cloud governance model should define which cloud services are used, how they are used and maintained, and how new products and services are developed. Are all of the company's services managed by the company, or by a supplier or maybe a Cloud Center of Excellence that can flexibly use the necessary resources wherever they are available? What help is available to the business when considering a new service or requiring technical expertise for a project? How to ensure the data security and data protection of services, what are the ground rules? How to launch cloud services so that day-to-day operations will continue smoothly even after the project?
We all too often see cases in which only the technical issues are addressed and everything's fun until the developers are transferred to the next interesting project. The organisation's IT department may be faced with an impossible task if the application requires further development or more demanding changes.
Our firm opinion is that a cloud governance model must include all responsibilities, practices and processes related to cloud service development and maintenance. Support is needed from idea to production, to ensure that everything works well.
From theory to practice
It's never too late to start, because a good cloud governance model will be crucial for many organisations in the future.
Aspects we underline when helping our customers to build a good operating model:
Clear responsibilities

What will the customer be responsible for, and what will the supplier take care of and be allowed to decide – a suitable combination of power and responsibility

Organisation

How to organise things around cloud services? How do projects gain assistance with technical or architectural questions? How will projects be developed to be ready for launch?

Common set of rules for data security and data protection

Cloud services have differences in terms of, for example, logging and monitoring; how do you ensure that all services are covered by the same rules and are sensibly managed?

Cloud service maintenance

Architecture and technology are important, but so are the processes and practices surrounding them. Where are instructions located, which tools are used, which support model is applied to applications and how do you cooperate with other partners?
---
Do you want to get the most out of cloud services?
Take a step towards your goal by signing up for our free GTalks webinar "Good basics of Cloud" 11.3.2021 (11:00 to 12:30 EET).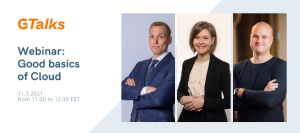 The webinar speakers will be Gofore's leading cloud consultants Jussi Puustinen and Joonas Vuorela, author of this post. GTalks will be hosted by Tiia Hietala who is responsible for Gofore's cloud partnerships and trainings.