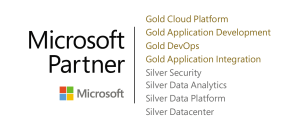 Microsoft has awarded Gofore an official Cloud Adoption Framework (CAF) Ready partner status. Gofore can now implement Azure cloud services for its' customers based on the Microsoft Cloud Adoption Framework. The CAF Ready partnership is a guarantee that Gofore has the expertise and know-how of the model's best practices in order to provide the customer with the best possible support for the flexible and secure deployment of Azure cloud platform services.
If you're considering deploying cloud services, the collaboration between Gofore and Microsoft will provide your organisation with comprehensive support from an expert organization.
"We guide and help the customer at all stages of the cloud journey, from cloud strategy to cloud migration, and follow the best practices and doctrines of the Microsoft CAF model. In this way, the deployment of cloud services becomes systematic and cost-effective, which in turn saves customer's time and resources. Our goal is always to guarantee the customer the true benefits of the Azure cloud transition, " says Jussi Puustinen, Gofore's Head of Cloud.
"We are pleased that Gofore has achieved Microsoft CAF Ready Partner Status and their expertise has been audited by a third party. With this expertise, organizations can accelerate their Azure cloud transition from strategic planning to implementation and maintenance, ensuring successful outcome of their business modernization. Congratulations to Gofore on this significant achievement, says Vesa-Matti Paananen, Chief Technology Officer for Microsoft Partners.
Cloud services will enable the organization to be agile and sustainable in the future as well. With the CAF Ready partnership, Gofore's offering of Azure cloud services expertise will expand and diversify even further. Gofore offers cloud consulting using a four-tier model, depending on the needs and wishes of the customer organization:
Creating a cloud vision and defining a strategy
Creating a secure Azure cloud foundation and governance model
Renewal and solid architectural design and implementation
Effortless and efficient maintenance and continuous improvement.
Get to know our work: Gofore cloud consulting
More information:
Jussi Puustinen
jussi.puustinen@gofore.com
+358406744748