The role of organisations has been under heavy discussion over the last years. Recently more and more organisations tend to choose a new approach regarding their management control; self-management. This blog post looks at how one local Finnish service company has developed its way of finding a balance between employees' autonomy and accountability.
Hello networked organisation
Organisations are designed to be stable and predictable environments. They have been very good at processing information, optimising processes and producing outputs. But over time, things change: customers want different services, new competitors and business models arrive, and the organisation might scale rapidly. This greater overall complexity forces organisations to fundamentally rethink their whole organisation model.
In the networked organisation model, the organisation operates as a network of small, self-directed pods that are connected by a common purpose and supported by a platform. A platform is a structure that increases the effectiveness of a community. The networked organisation cannot fit on a traditional organisation chart and is optimised by information speed and people pods.
The networked organisation enables a whole a level of flexibility and adaptiveness, that would never be possible in a divisional organisation. It can respond dynamically to change and can learn and adapt to the environment continuously. This will help the organisation to faster identify and capitalise on opportunities.
Networked organisations are also very resilient. It distributes the workload across a wider area by allowing each pod to focus on goals rather than on steps or stages. If one connection breaks, pods can still continue to work.
Networked organisation in action
Gofore plc. has around 600 employees and provides consultancy services in the fields of software development, design, management consulting and cloud. Gofore wanted to keep its organisation as simple as possible even though the growth has been rapid. The next chapters explain briefly how the networked organisation model functions at Gofore.
Gofore's business model is consulting, so the company is eager to find new customers and deals. In this typical example, a sales person discovers an interesting invitation for tender. He contacts another sales person to discuss the details. After discussion they decide to create a bid.


The invitation to tender requires proof of concept and a team of three developers. Sales person A discusses with the sales person B and uses Gofore's internal services to find a suitable UX-designer and a software developer for the project. Sales person B leaves the pod.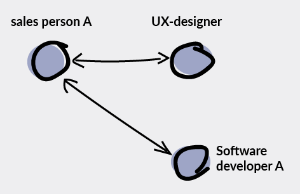 The UX-designer and software developer A start designing proof of concept. Software developer A invites two more developers B and C who would be right for the project. Sales person A also invites a legal advisor to help prepare the bid.


Software developers A, B and C fill needed resumes and help the UX-designer to finish proof of concept. The legal advisor advises software developer B on details of her resume. Sales person A and the legal advisor finalise the bid. Sales person A sends the bid to the client. Finally, the pod disappears, and people return to other pods.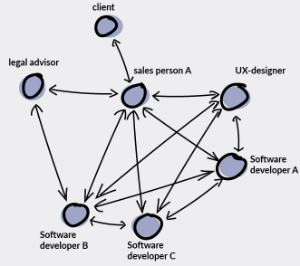 A notable thing in this example is that people might not have met before. There were also no managers or a standard process of how to proceed. The pod shares the common goal to "finish the bid". In other words, the whole pod is accountable for doing all the needed actions in order to reach the goal.
Most of the communication happens in one Slack channel and the pod might be active for only a couple of weeks. The pod goal can be everything from a small marketing event to a large strategic acquisition and it can contain employees, partners and customers. Size and activeness of the pod also varies over time. Sometimes the pod has one facilitator and sometimes multiple members are the driving forces. Occasionally, a pod fails to reach its target. Then people from the pod sometimes gather to reflect on what went wrong.
Theoretically, people can jump into different pods and take different roles at any time. On the practical level, people have varying expertise and responsibilities that restrict mobility. People who have more sales or recruitment responsibilities for example tend be more active than a single customer project focusing expert. There are also more static structures at Gofore, such as the executive management team and human resources function. Despite this, most "goforeans" are members of multiple pods simultaneously.
Side effects
Every model has side effects and the networked system is no exception. Gofore has numerous pods active every day. This might cause a situation where two pods are working on the same topic without knowing the others' plans. Thus, a pod might be operating on an activity that has previously been done, or is already planned to be done. In my experience, this sub-optimisation risk hasn't been a major challenge at Gofore so far.
If an employee belongs to too many pods at the same time, context switching might generate overhead and frustration. The other challenge is that people become bottlenecks – people struggle to say no for new pods and activities, even when their schedules are fully booked. For these reasons, employees need to know how a self-organising organisation works. Gofore has created internal "People Person" and "Coach" services that support employees in their self-management and personal development skills.
Some people might also miss long-term teamwork and traditional supervisors, where decision making is slower and more predictable. Gofore's customer projects are typically long lasting which helps to create a more stable environment. Some pods such as "Guilds" and "Capabilities" are also more durable by their nature at Gofore.
Control your own fate
This blog post offers a glimpse into Gofore's operational level. It is important to understand that when the organisation is adaptive and learning, structures and culture also evolves continuously. Hopefully organisations understand this paradigm change and let go of the legacy of Taylorism.
References
The Connected Company by Dave Gray
https://hbr.org/2015/06/what-makes-an-organization-networked
https://blogs.oracle.com/content/who-is-dave-gray-and-what-is-a-connected-company
http://blog.idonethis.com/cells-pods-squads-structure/
Graphic Design
Miia Ylinen