UX Designer Paavo joined our Hohto team for the summer and shares what he learned from the recruitment process, himself and UX. And tells how he managed to land his first job in the IT-industry.
This summer I have been working as summer UX designer for Gofore. I was pleasantly surprised when I was asked to put a pen to a paper (or fingers to a keyboard) and write about my experiences about the recruitment process and my job search. For me this kind of opportunity is great chance of giving feedback and shows the quality of the company I'm now part of to be open to this form of feedback. Through this blog I will go through my job hunt and the Gofore process in particular. So continue reading!
Recruitment process: the hard work paid off
So how did we get here? Well I started my job search a bit too late for the standards of IT-industry. Some of the positions are nowadays filled even before the change of the year or little bit after that. I did not have time to do my application for that deadline as I was still working in my last position as a board member at the Student Union of Tampere University. So I started late and just landed the position right? Wrong. Last spring I applied for 45 positions in different companies for all kinds IT positions. From those I landed two pre-exercises and four interviews. So a lot of work and was done to land this position. It was not easy and at moments I wanted to give up.
My journey to landing the UX designer position was split into three steps.
First step of this was sending the application, which included sending the standard CV, cover letter and portfolio.
From this first step some were picked for the second step that was a preliminary exercise. In this exercise you had a change to show your skills in designing and explaining the design decisions taken. From this step 10 people were picked for the final step that was held at Gofore offices in two groups. What was nice about preliminary exercise was that you got feedback about it.
The final step of the process consisted of a group exercise and a personal interview. In the exercise we had work as group to create a concept for a product and think about how to create future project flow on how to reach that ideas potential. The group work and the contributions of the members were assessed in this part. The interview was very standard, but it gave a nice change to explain further the CV and work history. Although this step felt really stressful, I really appreciated the atmosphere that recruitment team made for this step. After the exercise we had some time to ask about Gofore and network with the applicants. I really liked this and it left me with a really warm impression of Gofore. This was the place I wanted to work at. Few days after this the call came and as they say the rest is history.
Gofore's candidate experience is convincing
At the previous paragraph I went through the Gofore recruitment process and what I really appreciated about it. I think for a great recruitment process there are few important things that should be considered:
First communicating the process and what is needed and when. This is seems obvious, but in my opinion needs to mentioned.
The second thing I think is important communicating at which stage the process going. This was the one thing, I felt was the most lacking from most of the companies I applied for. I understand that it can be hard to really give a real timeline when there are hundreds of applicants, but not giving any info is very frustrating.
The third and the last thing is giving applicants something worth while from the process. This can be feedback, exercises that can be used in their portfolios, valuable tips and tricks or something else. This could be most resources and time expensive thing to do, but this is very important if you want to give a great impression of your company.
As I got a great impression of Gofore, I could not wait for the beginning of my employment. And the hard work was definitely worth it as I have loved every minute of my stay:
I have got to work on Gofore's own systems Hohto and Gigs.
I have designed new components, helped in organising a workshop, analysed findings from that workshop as well as all kinds of small design tasks and ideation. Through these things I have gathered a lot of experience and knowledge of the design work.
And the biggest thing has been feeling part of the team and contributing to the group. 🧡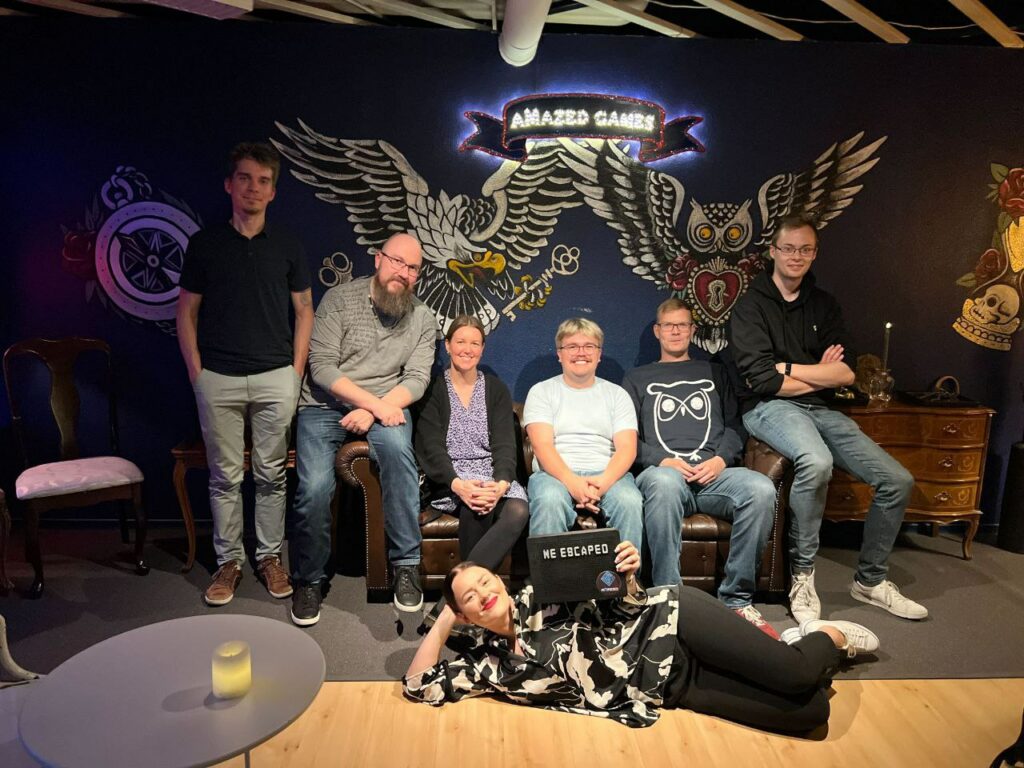 "Be open to change and to learn and stay curious"
In the end I want to give my few cents for the people looking to join Gofore in the future. In my opinion Gofore is a place, where diversity is valued. So be yourself and bring out your interests and experiences openly.
Secondly at Gofore the value you can bring and how you fit to position are important. That is why you should think a little bit in advance how you could do these things. And at the interview and through out the process be active and ask about the position to find more information to support the solutions you offer.
Lastly I want to leave you with this thing: Be open to change and to learn and stay curious. I think this the key to good life and exciting future opportunities.