In the future, accessibility requirements of digital services will increasingly apply to a wide range of products and solutions. Public sector organisations have been obliged to create their websites and mobile apps accessible already from 2019 onwards. The requirements of the European Accessibility Act will apply to private sector companies by June 2025. Also physical digital products have to be accessible by then. In the future, online stores, streaming services, smartphones and self-service terminals will have to meet accessibility requirements. Digital services and products must be accessible to everyone, regardless of their physical and cognitive abilities.
Gofore serves customers of digital society and intelligent industry, having a growing demand on accessibility expertise. Gofore aims to develop equally accessible digital solutions that benefit users regardless of their limitations or disabilities. The company has strengthened its expertise in accessibility to be able to help customers to meet the new accessibility requirements.
"When it comes to accessibility, we want to drive cultural and societal change. Accessibility in digital services is not just about meeting the minimum legal requirements or passing an audit. Accessibility must be part of all planning from the start. The purpose of digitalisation is to make people's everyday life easier. Focusing on accessibility will benefit all of us in one way or another," says Viljakaisa Aaltonen, Head of Business at Gofore.
When a service or a product ist designed accessible from the start, it will also significantly expand the potential user group.
"Our accessibility experts work closely with both users and teams designing and developing digital solutions. This allows us to integrate accessibility into the development process at an early stage. We want to help our customers to lead the way in building an accessible, inclusive digital world," Aaltonen says.
A diverse team of experts
Azra Tayyebi is one of the newly hired Accessibility Leads of Gofore. Tayyebi is visually impaired and uses screen readers to use digital services. She navigates through life with the assistance of a guide dog called Helmi.
She currently contributes to projects such as the enhancement of accessibility and usability on OmaVero​.fi for Gofore's customer, the Finnish Tax Administration.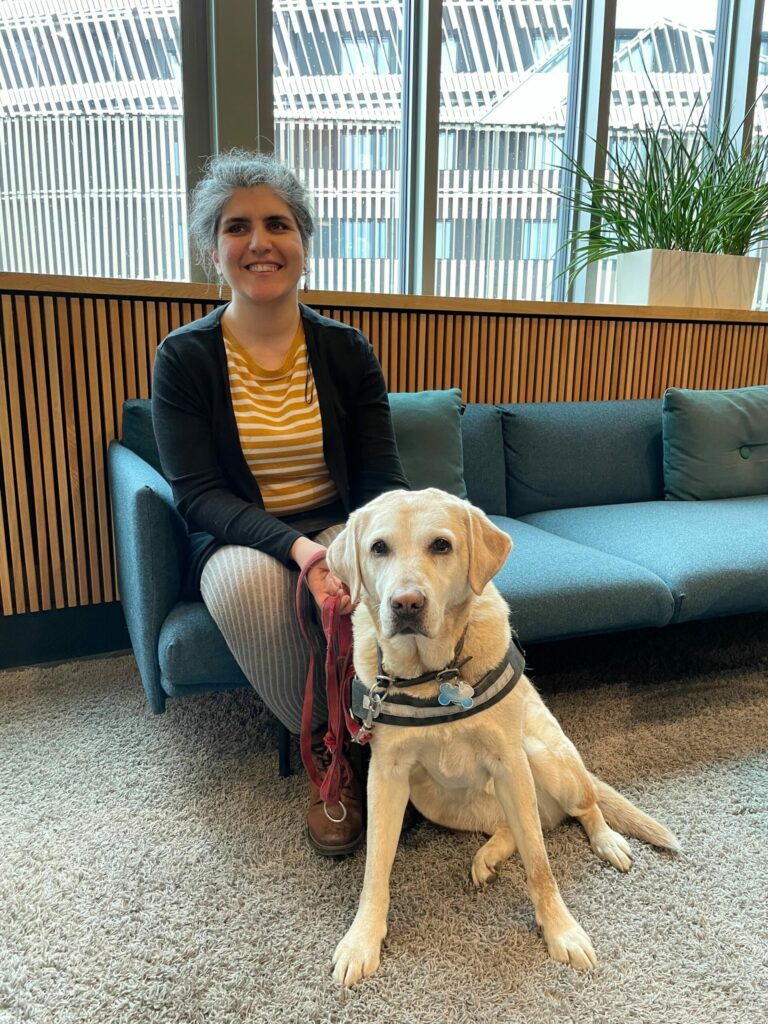 "My role is to teach and consult on the usage of screen readers and how people that are visually impaired interact with digital applications and systems. Leveraging my programming and developer background, I am able to collaborate closely with developers, integrating accessibility considerations from the earliest stages of conceptualising technical solutions," Tayyebi says.
Having migrated to Finland a decade ago, Azra pursued a Master's Degree in computer science after already obtaining one in programming from their home country, Iran.
Finland's pioneering position in the IT industry and its commitment to the rights of disabled individuals were the driving forces behind Azra's decision to settle in the country.

"When I made the choice to stay in Finland after completing my studies, I was determined to learn the language so that I could pursue a career here."
Thanks to her excellent knowledge in Finnish, she can work on public sector projects that require Finnish skills.
On the picture: Gofore's accessibility experts, from left Elina Jokisuu with Niilo, Ruut Kiiskilä, Tiina Mikkonen, on the back Daniel Koskinen and Aliisa Palm, Azra Tayyebi with Helmi. In the middle: Head of Business Viljakaisa Aaltonen, and on the right Jere Valkonen, the People Person of the experts.
New members of Gofore's accessibility team are also experienced in software development, service design, user experience and usability design, and graphic design.
Three key accessibility requirements for digital services
The service and its content have to meet the requirements of the so-called WCAG guidelines, which ensure that different people in different situations – including people with disabilities and impairments – can use online services.
Accessibility must be audited, and its status, possible deficiencies and the timetable for repairing those must be set out in a separate description.
The service must include an electronic feedback channel for users to provide accessibility feedback.