I'm Berit Alasmäki and I work as a UX Designer. I didn't have any particular dream job when I was growing up, but my parents often commented that I would probably work in the IT industry because I was constantly doing all sorts of experiments on the computer. It has not always been easy to find a community that would make me feel like home but Gofore really has been such.
Tell us about your career and study background?
I come from a family where computers and arts have been strongly present. I remember my parents having this old MS-DOS microcomputer which they used for accounting and I always wanted to play around with it. Also, instead of sports, my mom used to take me to art classes with her and teach me how to draw and paint with different techniques.
Around 1997 we purchased our first Windows computer which was probably the first time I started to get into the world of computing. In the beginning / mid-2000's I was already using a computer every day for visiting websites like Jippii.fi, Habbo Hotel, Newsgrounds and Runescape. I was also playing around with editing videos (Windows Movie Maker) and creating websites for The Sims game fan material purposes. Those experiences made it possible for me to learn more advanced programs later as I grew older (Adobe programs).
At the beginning of the 2010s, when I had just turned 18, I started to work in a start-up company where I was pushed to learn a lot of things and I always got work assignments of things I didn't have much experience of (front-end development, designing, creating marketing materials and business plans, pitch presentations, etc). I must say it was probably the most valuable experience I was able to ever gain in my career. After my experience there and graduating from secondary school I decided to apply for an Informational Technology degree at Vaasa University of Applied Sciences. From there I found an internship place in Helsinki which led my way to Gofore. Officially I became part of Gofore in January 2018 because I was working for Leadin at the time it was merged with Gofore. And here I am today.
My dream job was never clear to me but my parents always said I'm probably going to do something in IT because I was always on the computer. For a long time, I was thinking about becoming a police officer or physiotherapist but in the end, I never had the focus to do those things. Also, even though I was studying Web and Mobile Application Development in the UAS I didn't ever feel like it was something I wanted to seriously do. Thanks to my internship I learned better about UX & UI designing and decided to move my focus from web development to designing.
What makes Gofore a great company for you?
It has not always been easy to find a community that would make me feel like home but Gofore really has been such.
The community is a mixture of people from different backgrounds, different generations, and cultures which makes your mind expand and you will learn a lot of new things you probably wouldn't have learned otherwise. I have also been fortunate to be part of a company that supports personal growth.
I was 24 when I got pregnant and had my first child and around that time, I had just joined Gofore. I didn't have so much previous work experience in the field, and I was afraid I wouldn't be able to keep up with the development. Fortunately enough, my co-workers have been supportive and patient with me and there has been so much I have learned just in the past 3 years working here. Talking about "Positive Impact" I really feel like that's what they have given to me and it has motivated me to share the same experience with the rest of the world too.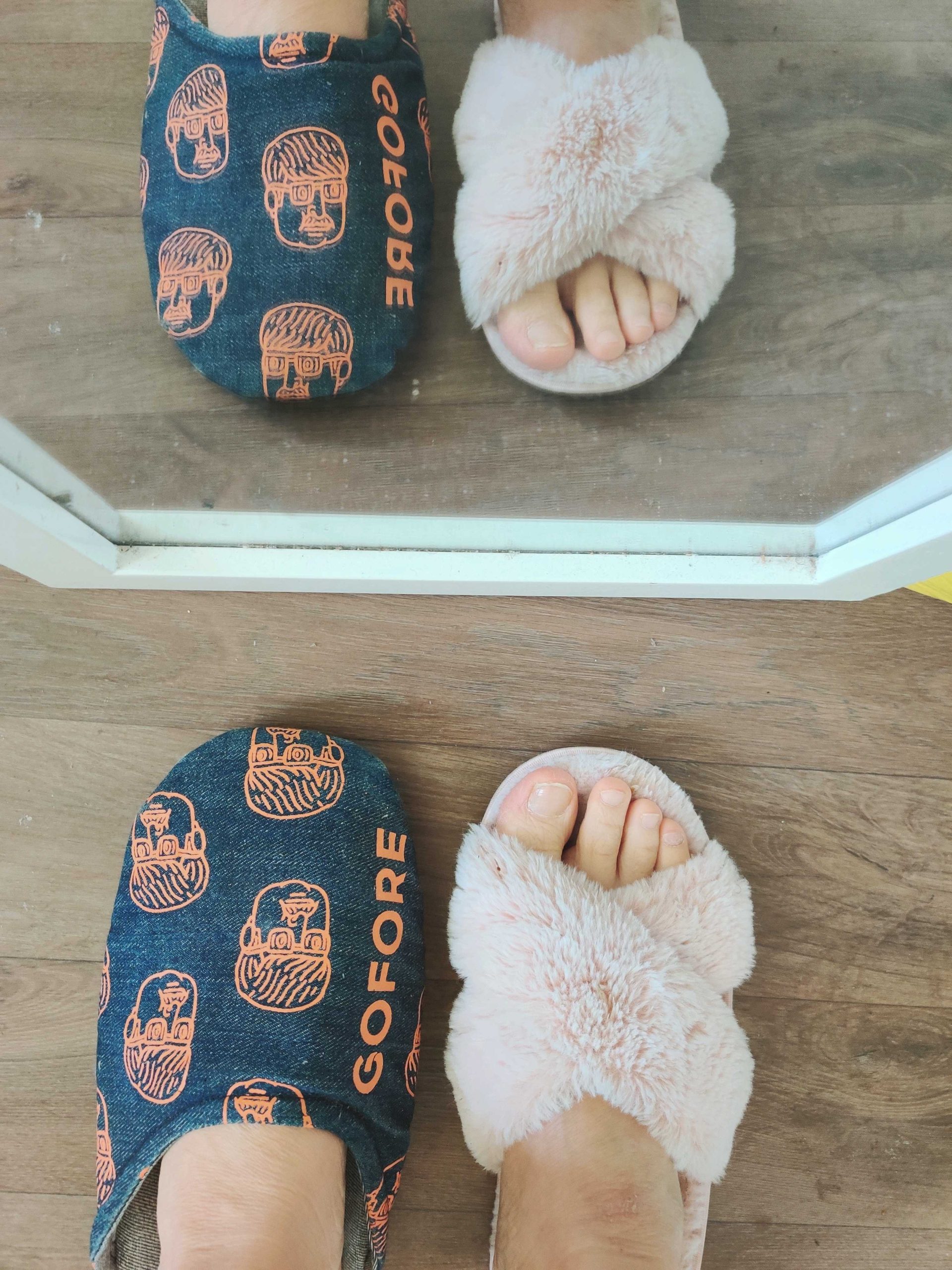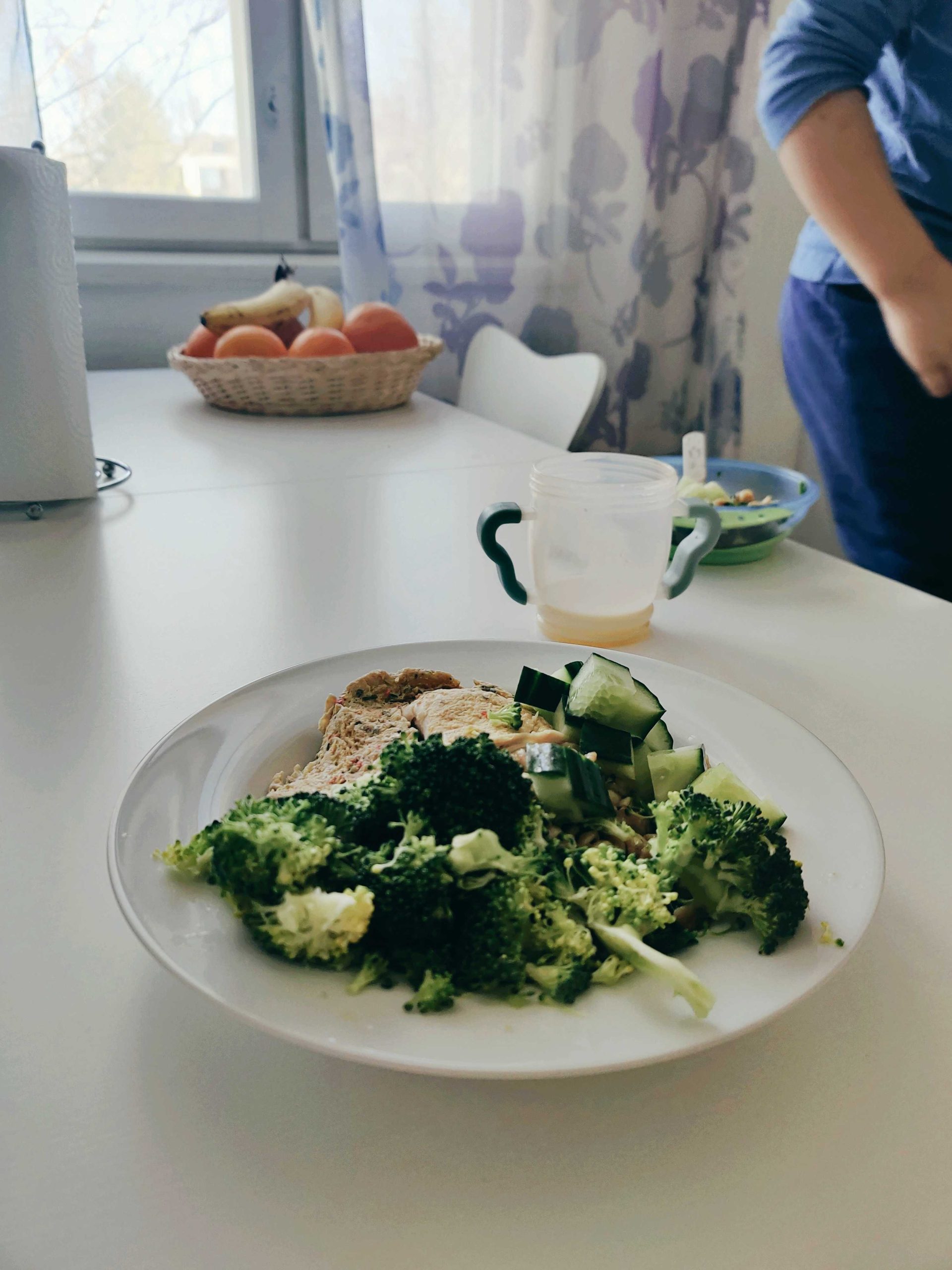 Day at the home office.

What are the things you most likely tell your close circle about Gofore?
I don't talk so much about my work to my close circle but people close to me see from my presence how the work is impacting me. I enjoy it a lot and I feel like the work time flexibility has created more space for me to balance between family and work.
The work time flexibility has also made it more possible to focus on creativity and self-development which are really important factors to keep the motivation and focus on the work.
I feel happy that I get to work in a company like Gofore. I have similar values that the company also represents. I appreciate that the employer supports the employee's well-being and values my work.
What's the best Gofore memory?
The family game day! I took my stepdaughter and my young cousins with me to the office to play Minecraft. I didn't have any idea how to play that game but simply to just share that moment with my family and colleagues – it was awesome.
What is your favorite internal Slack channel at Gofore?
Probably our General channel because that's how you can keep up with the whole company. People send sometimes really funny stuff there.
What are the technologies and methods you mostly work with?
I love sketching and writing down ideas on paper. Probably the most used tools I have are a pen and a notebook. If talking about digital tools I'm currently working with Figma tool and I have found it to be the best in terms of usability and flexibility.
I used to use Adobe Illustrator to make design layouts, but I realized that the program was way too heavy for simple design sketches. I also like how easy it is to build whole design systems in Figma. I still use Adobe Illustrators for drawing illustrations and other vector graphics like icons. For organizing my work and mind I use Miro and Trello quite a lot. Spotify is also in large usage because I like to listen to design and work-life-related podcasts there. It's nice to listen to those while creating UI designs.
I like to play some sort of background noise with the sounds of "cafés" or nature while I'm drawing. Pure silence doesn't always work for me and sometimes my mind needs little background noise to stay creative.
How does your typical day look like? What excites you most in your daily work?
My workday is usually a mixture of meetings and designing. I do nowadays fewer user interviews and workshops but I used to do those more as well. Sometimes I might also do some internal work e.g. creating material for the onboarding. I also try to do some workout or stretching in the middle of the workday or simply just clean around the house to get out of the chair once in a while. My day usually ends around 4 PM because that's when the rest of the family comes home but I like to work an hour or two later in the evening after having a longer break.
What would you like to do in the future at Gofore?
I would love to be more involved with the onboarding and culture development crew because I enjoy organizing events and socializing with new people. I would love to also develop further our design community and make it more active overall.
What kind of digital world do you want to build with others?
Accessibility and overall great usability are close to my heart. I wish I could be part of developing something that could leave a positive impact on the whole world. A world where everyone could have an equal opportunity to learn, grow and build a life despite where they come from, where they are living in, or what kind of family background they might have. A world where digitalisation could build and unify people – not separate.
It's often said that digitalisation has changed every part of human life – how we live, how we work and how we interact with the world around us. But when you think about it, digitalisation alone can't change anything. Without people, it's all just hardware and code. That is why we want you to get to know our people, Goforeans. Read Our Gofore stories! ?

Are you interested in job opportunities at Gofore, read more about us, and check out the open positions gofore.com/en/join-the-crew/