Each neuroatypical life story is unique. And yet many find a lot of relatability in them. Neurodiversity in working life is an important topic. Through people's stories we can learn a lot about how to make working life inclusive for us all. Read what Tiia has to say.
My life before the diagnosis
I've always felt different and out of place. I did well in comprehensive school, but in high school things started to get really hard. I found it difficult to make friends; it seemed I was always too much of something; too loud, too direct, too energetic. It made me feel isolated and weird, as I didn't know what was wrong with me, how to change myself and how to be accepted as part of a group. I felt extreme loneliness. During these years I started experiencing rejection sensitive dysphoria and started therapy for the first time. At the start of the millennium no one thought girls could also have ADHD, so I didn't get the support I would've needed to complete high school and ended up quitting due to major concentration and memory problems.
I moved to England for work and stayed on that path for nearly seven years working in different roles and industries. Generally I did well, but struggled and was a perfectionist, experienced anxiety and depressive bouts and eventually had my first burnout at 23. I had a daughter in England, and after moving back to Finland in 2011, I realized I needed to figure out my life in order to provide and be the best possible mom and example to my daughter. I managed to complete academic studies for the first time and dared to take up social dancing despite my physical clumsiness. I realized it was the perfect antidote for hyperfocus and getting overly consumed by things I get enthusiastic about. Starting volunteering fulfilled my need and desire to help others. I continued further studies, but the combination of part-time work and responsibilities of single parenting the workload became too much and I had to quit studies once again. Around this time I became aware of ADHD, as two of my close friends urged me to investigate it and start the diagnostic process. As a classic symptom of ADHD, I never got around to it.
After the diagnosis
I started at Gofore in 2017 and from the first day onwards I truly felt I had finally found my place to achieve my potential in. I had joined a community I felt belonging in and a workplace with structures that nurtured my strengths and made me feel a valuable employee and a colleague. Along with my day job I was able to take on extra roles and assignments that utilized my creative problem-solving skills, my need for helping others and my desire to improve processes and ways of working. Still, it took another three years and two smaller burnouts before I became so exhausted from years of trying hard to juggle and survive that in 2020 I contacted our occupational health care provider to find out what was wrong with me. The process was quick, and I got the diagnosis for ADHD. With my first medication I felt for the first time what it was like to have a "quiet" brain, not get overstimulated or overwhelmed and able to keep prolonged focus on a task. I also noticed I had created many adaptive systems to deal with the symptoms without realizing it. After the diagnosis my world view changed and I realized there is help for people like me and most importantly I was not alone with these life-long struggles I'd had.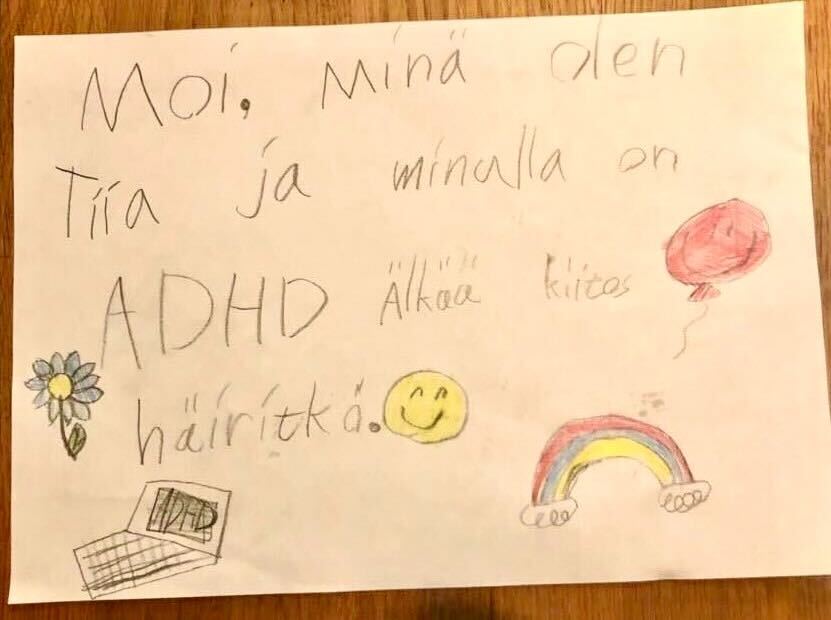 Finding my place at Gofore
At Gofore I've been able to shine and achieve things I never knew would be possible. The self-directed culture of doing allowed me to take on tasks and projects based on my interests, and the supportive, appreciative culture of Gofore made me feel I was actually good at many things. My colleagues and line managers have praised me for my efficiency and enthusiastic get-stuff-done attitude, for my never-ending energy and ability to excite others as well as seemingly endless source of creativity and ideas. What I've come to learn at Gofore is that my ability to learn new things fast has allowed me to jump into new challenges and roles quickly. My deep love for people and teamwork – and lifelong experience of managing multiple overlapping projects – has taught me excellent skills suitable for project and time management.
During my time at Gofore, I've been able to become a functional wholesome person. Now I can be a good employee, a great mother and a happy healthy Tiia without having to compromise. I can combine work and life with the help of flexible working conditions and tools. I can organize my life in a way that I have time and energy for all the important stuff outside of work also. Increased awareness and understanding of the challenges caused by having ADHD has helped me to manage my symptoms even without regular use of medication.
What next
Still, there is much work to be done. Gofore has now taken the starting step towards recognizing the valuable impact neurodivergent people can make in the workplace. It can be achieved with the right support structure that's designed together with neurodivergent people and experts specialized in the field. As for neurotypicals, also needs of neurodivergent vary, so it needs to be considered thoroughly what type of working conditions, tools and facilities support neurodiversity.
We need to keep raising awareness and understanding of neurodiversity in order to remove the stigma and shame attached to it. For my own contribution to this, I set up a Slack channel #speedclub a year ago after realizing we did not have a centralized community for peer support for neurodivergent people. There has clearly been a need for this channel, as neurodiversity affects many of us. We discuss, encourage and share our personal stories and celebrate each other's successes.
For me it took 35 years to go from weird to work-in-progress. I will never be neurotypical, but as opposed to before I now know I don't have to be in order to fit in.
I am enough and good the way I am.
At Gofore, we are committed to create an inclusive workplace for an increasingly diverse group of people. As one of our strategic goals we want to offer personalised support for the different kinds of needs and wishes of our people. Read more Neurodiversity at the workplace.