Taking neurodiversity into consideration in the work community not only affects the neurodivergent individuals themselves but also everyone and everything in the work community, including the person's close colleagues, team, manager as well as work practices and tools. We have taken various perspectives into account in building our recruitment process to be as inclusive as possible.
Our goal at Gofore is to ensure that the people who participate in the recruitment process have adequate knowledge and expertise to take all of our applicants' wishes and needs into consideration in a concrete way. The consultants at our partner company Unicus, Salka Salkoharju and Jukka Mikkonen, pointed out during the neuropsychiatric training for our recruitment team that understanding neurodiversity in theory is not the same as knowing how to take it into consideration in practice.
Candidate experience at the centre of the recruitment process
Our team experienced its first push towards examining neurodiversity during the Sourcing Summit event in last autumn. In the recruitment team, we began to ponder the significance of neurodiversity in our own work. Here at Gofore, taking diversity into account has always been an inherent part of our company, and we express it in our values: we want to provide a good work community for everyone and our success is tied to that of our customers. We also ensure that our values are adhered to in practice by surveying employee experience, and we know that the majority of the Goforeans feel like they can be themselves at work.
Although we already have a solid foundation for taking neurodiversity into consideration, it has been exciting to embark on this journey to discover all the new ways in which our recruitment team can improve things even further. The basic structure of our recruitment process is a simple one: we go from attracting candidates to discussions, making decisions and offers, and finally onboarding the new employees. The recruitment process at Gofore centres around the candidate experience and finding a place for the new employee that is genuinely the most suitable for them. We often encounter situations where a candidate has applied for a particular position but after getting acquainted, we have mutually come to the conclusion that we can offer the candidate a different role instead that better fits their strengths and interests. When creating the candidate experience at Gofore, we have paid particular attention to bringing candidates and the Goforeans together, and our candidate experience surveys have shown that this is, in fact, one of our strongest points.
Thus, we embarked on this journey with open minds and ready to update our operations with the knowledge that we acquire along the way! Our very own peer support group Speedclub has helped us on our way along with events, training courses, discussions and a wide variety of written and video materials on the subject.
Developing recruitment with diversity in mind
So what were the concrete actions that our recruitment team took following the information search?
1. First thoughts
We examined our recruitment process step by step and made notes of the first thoughts that we had on the most important things to keep in mind for each step (see the orange texts in the image below).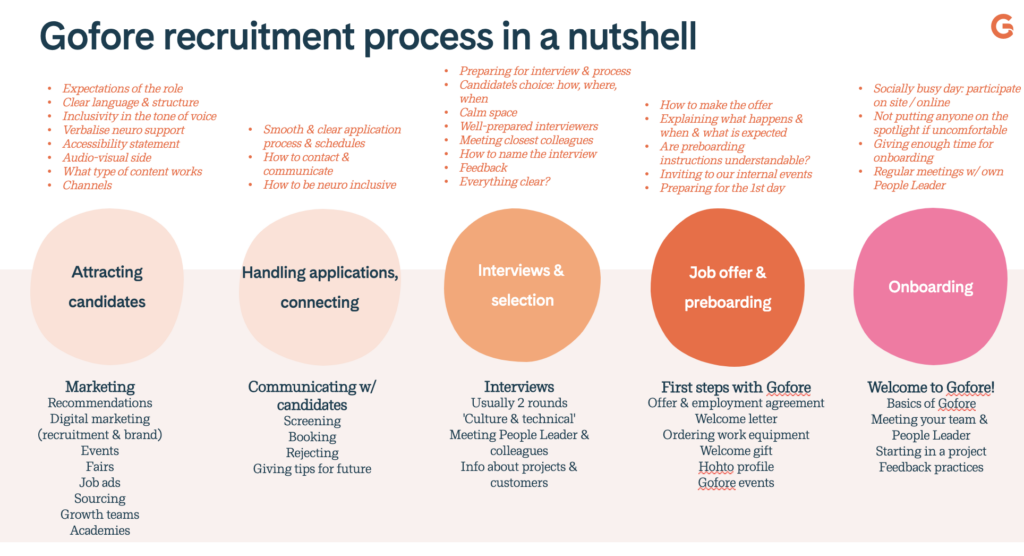 2. Increasing understanding with the help of the Goforeans
We turned to the members of the Speedclub and asked the new Goforeans there if they would like to comment on their recruitment process at Gofore. These discussions increased our understanding immensely and gave us more tangible ideas. The most important things that we learned from the discussions were:
Peer stories and examples: During discussions with applicants and in our communications at Gofore, it is important to highlight peer stories and concrete examples on how we take different kinds of people into consideration. This creates an atmosphere that lets everyone know that they are welcome here as they are, and it provides neuroatypical applicants a good opportunity to talk about any special needs they may have during the recruitment stage already if they feel like they want to and need to share that information. It is also important to keep in mind that all of us want to be treated as whole persons and individuals ⁠–⁠ people are more than their diagnoses.
A human recruitment experience: A human and positive candidate experience is one of the cornerstones of our recruitment process at Gofore. Our discussions with the people in the Speedclub reinforced the idea that by building a more human recruitment process for everyone, we not only contribute to better conditions for neurodivergent individuals but also for everyone else. Paying more attention to the needs of neurodivergent people benefits everyone. One of the respondents aptly summed up that "Whether by luck or competence, Gofore has got the recruitment process right when it comes to ADHD". Naturally, there is still more to be done. Yet, we can already solve many issues by simply looking at the process from our candidates' point of view to come up with ways to forge the most straightforward and human recruitment experience that brings out the best in each of our candidates.
Wishes: We also listed wishes and things that are in need of improvement:

Job ads that are story-driven, lengthy and have an unclear structure are problematic for neurodivergent people. The requirements of the position and the job description should be explained very clearly in the ad. What does it actually mean in practice if the job requires the candidate to know agile development methods? In concrete terms, what does the candidate need to be able to do? Job ads should make use of lists, clear titles and bolded letters for keywords. The most important parts should be placed at the beginning of the ad.
The respondents felt that remote interviews were a good option, as being in a familiar environment makes it easier to control sensory stimuli and it is less socially stressful. For instance, the candidate does not need to look straight at the other person like they would in a regular interview ⁠–⁠ just staring somewhere at the computer screen is enough. If the interview takes place in an office environment, it is a good idea to ensure that the interview space is calm and to consider any sensory stimuli (lights, sounds, smells, temperature, colours, other people, comfortable chairs) and maybe even offer something for the candidates to keep their hands busy and help them concentrate, e.g. Lego bricks. Taking pauses is also important during long meetings.
The respondents felt that the onboarding days were challenging both in terms of the amount of information and how socially busy they were. Checklists could be utilised during the onboarding. The new employees could use them together with their manager to keep track of all of the things they need to get done concerning the onboarding and starting their new job.
3.  Training the team
We asked Unicus to train our recruitment team in recruiting neurodiverse people. At this point, if not before, two things became clear to us: our inclusive corporate culture that is founded on values has served us well in this respect as well but we can also do better in many areas. What do you think of the following ideas:
When recruiting neurodivergent people, you should focus on not only the quality but also the quantity of the meetings; four to six meetings might be warranted.
Give the candidates options for demonstrating their competence already during the application stage. Instead of writing a motivation letter, the candidates should be allowed to choose video questions instead or select which questions they want to respond to in writing.
Name the interview in your calendar invitation as a "meeting" and send the meeting's agenda to the applicant in advance. 
4.  Adopting the lessons learned
We revisited our recruitment process in the first section and added the new things that we learned from the training and the Speedclub interviews to each step of the process. We ended up with a rather long list. One concrete measure that we were able to implement straightaway was to add the following text to all of our job postings: "We recognise and understand neurodiversity, and are willing to adapt our recruitment process based on your needs." This was a significant moment on our long journey.
5.  Practices for working together
We are transforming our recruitment process to be more neuro-inclusive with the help of our findings and the continued support of the Speedclub. Our next step is to decide how we want to train our current and new interviewers as well as managers to take this kind of diversity into consideration. It is also important to create the practices for maintaining and developing our operations, as this should be a permanent change for us and not just a individual exercise. We will have an answer to all of these questions in the coming autumn. Stay tuned!
Three tips for inclusive recruitment
1. Be open to diversity. Being neurodivergent is not a choice, and neurodiversity may not always manifest in a visible way.
2. Be willing to make the effort to recognise the candidate's potential and expertise. This might mean that you need to put efficiency to the side and re-define the criteria for quality.
3. Do not be afraid of mistakes and learn from each encounter with a neurodivergent person.