Read this blog to find out what happens when you send your application to us!
Application, interviews (or conversations as we call them), and contracts – a traditional but working model. For us, an application or other first contact is above all the start of a conversation, through which we get to know you, your skills, and your professional life. We want to hear what motivates you!
How do I apply to Gofore?
You can find the most up-to-date information about our open positions on our website and company page on LinkedIn. You can apply for a position by filling out a role-specific application or expressing your interest with an open application.
If you already know Goforeans you can always ask them for more information as well. Goforeans are active recommenders and many of them work closely with our recruiters.
Our recruitment team processes incoming applications and referrals and strives to match talent with the needs of our current customer projects. Your application helps us get to know your skills and experience. With your permission, we store your data in our system.
We will try to inform you as quickly as possible how the recruitment process is progressing in your case.
Whenever we have new project opportunities, we can also return to previously sent applications and contact you later. And even if we have your contact info, you can always contact us again if your work situation changes or you are interested in another role.
What is the recruitment process like?
Our recruitment process is usually three-stage, which includes 2–3 rounds of discussions and a task related to your professional expertise. Along the way, you will meet your potential People Person, a recruiter, and a future, more experienced colleague.
We want to get to know you, and your skills and hear what motivates you and how you want to develop. We also want to give you the best possible understanding of Gofore and the role you are applying for.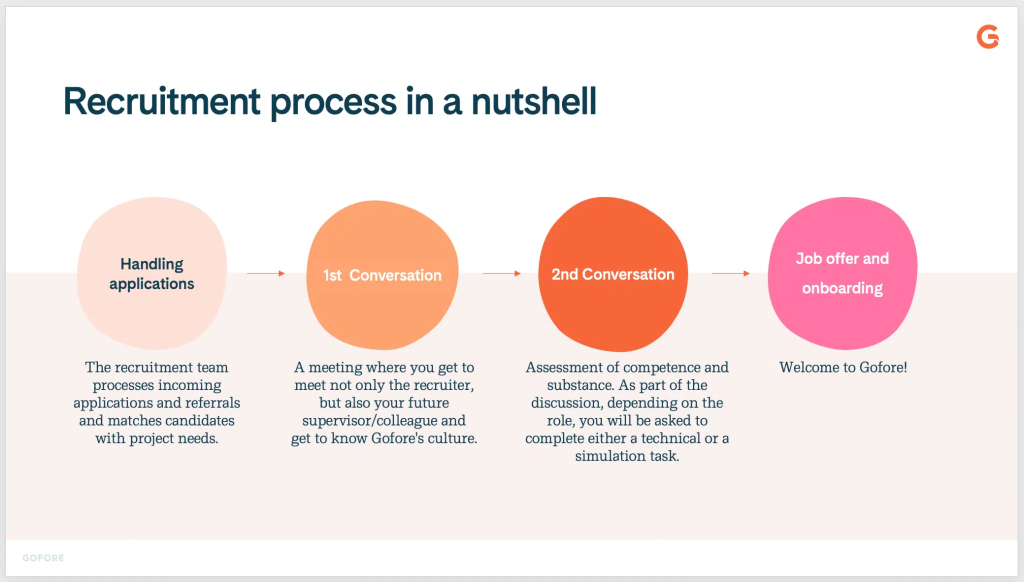 The first conversation is a meeting where you meet not only the recruiter, but also your future People Person or colleague, and you get to get to know Gofore's culture.
In the second conversation, we will evaluate together your skills and substance for the role you are applying for. Depending on the task, we ask you to do a practice and simulation task in advance or on-site. Our goal is to give the applicant not only a learning experience but also as much food as possible for themselves and the future because the meeting is very discussion-oriented despite the task.
We have offices in Europe (Finland, Estonia, Germany, and Spain) and you are always welcome to visit us and our office premises on-site. Interviews take place both virtually and in the office (our offices are all easily accessible, modern, and comfortable!).
After the discussions, we make a decision and a possible job offer. When the employment contract is signed, we agree on the start, and after that, you can choose the tools (laptop, software, licenses, phone, headphones, etc.) you need yourself.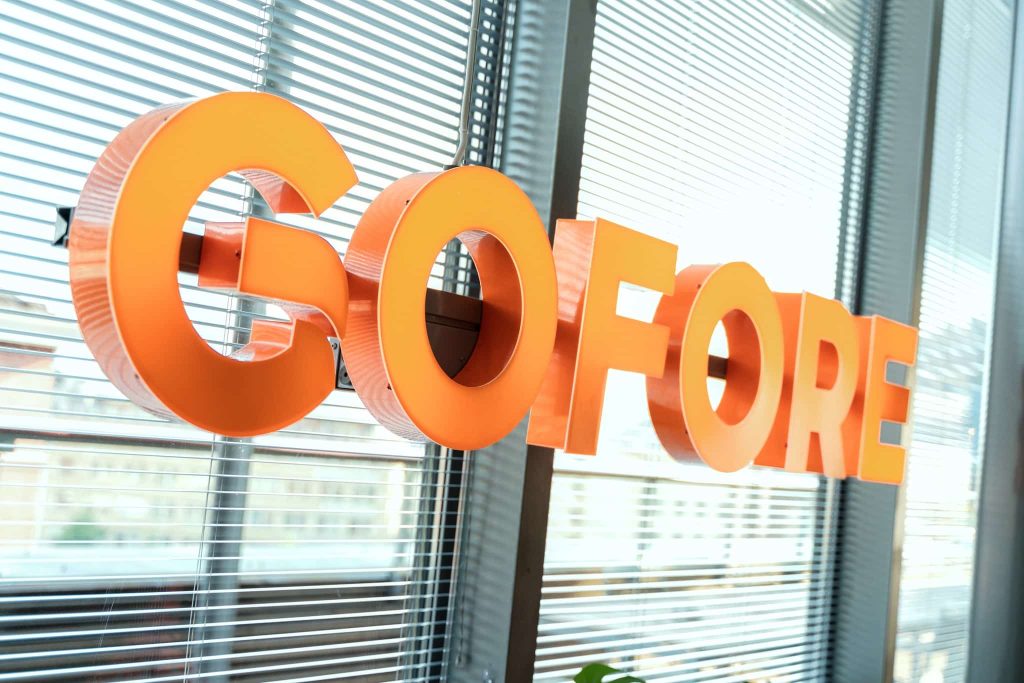 Open application
Are you interested in Gofore as a work community, but did not find a suitable role? You can send us an open application.
We'd love to hear about your experience through as concrete examples as possible and what motivates you. Hopefully, you have already gotten to know our business enough that you have a vision of your future career path with us.
We read each application carefully and will definitely make a counteroffer if we see potential in you for one of our open positions.
Why work at Gofore?