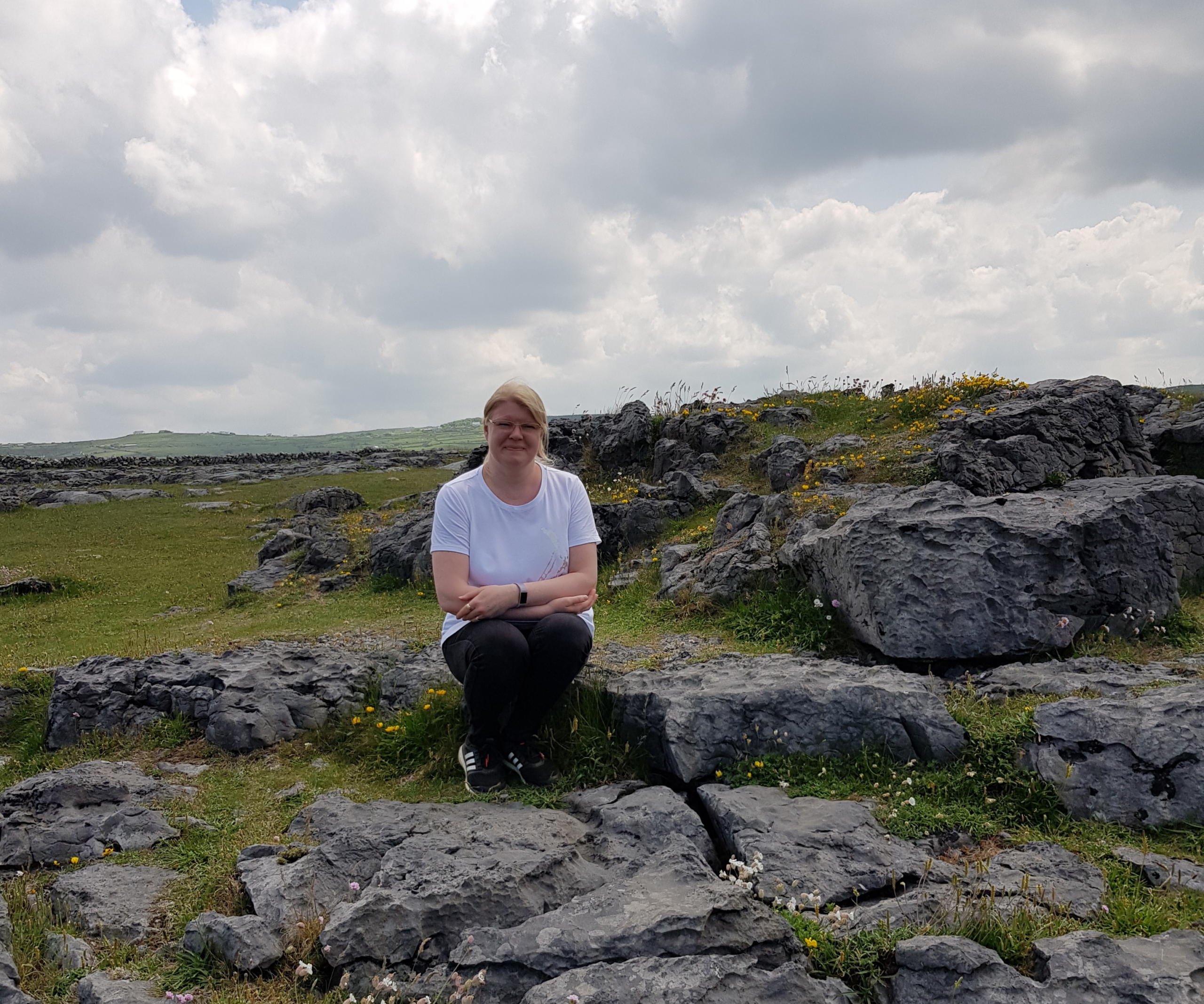 I'm Minna Vänskä, a service designer at Gofore. I've been working in the tech world now for 21 years. By training, I'm a Master of Arts. Earlier in this blog series Jaana told how she focused on mathematics instead of English. Funnily enough, now I'm working with Jaana side by side for the same customer at Gofore and I did study English as my main subject at the university. :) Other studies included information studies (earlier library science), journalism and mass media, multimedia and audio-visual culture. And now that I look back on it, it's a pretty perfect combo together with the years of experience in IT and added with some studies in service design.
While growing up I remember wanting to be a queen or an archaeologist. I was telling (lecturing) people everything I knew about king Tut at the age of 8. Then, of course, everyone wanted to be a 'lakasukoneenkuljettaja', basically driving a Zamboni, or ice resurfacer to be exact. I've always liked to make stuff: To create a doll out of a used shampoo bottle, to paint and do renovations. The kind of problem-solving that I like is to construct and sew a winter jacket or cut and build a stained-glass lamp from scratch.
Being part of a product building machine
At the age of 22 I got a summer job at Nokia, I did my thesis there and got paid for it, something that is still too rare in the Arts faculties. By the time I was 25 I had graduated and was busy writing the user guide for the first-ever Symbian OS phone. At Nokia I got to work with amazingly talented, world-class specialists, experts, and product builders, I learned about mobile technologies, customer care, logistics, factory setup, design for sustainability, and package design to name a few. And I think we were among the first to try out the legal design. I got enthusiastic about user research, observing people in context, about analytics and visual communication. I still think that one of my greatest career achievements has been the Visual user guide for the emerging markets: innovating and creating something new, a visual user guide, serving millions of customers better with a deliverable that cost 0.01€, it saved money and the environment.
I've always worked in a male-dominant workplace with an 80/20, or even 90/10 ratio and if you weren't technically trained or "an engineer" you really were the odd one out. We used to joke about the elevators at Nokia, if a man didn't crush you at the doors, he must be a lawyer. Being from an arts background didn't make me a lesser employee for the company though. I remember the HR being brilliant at the time. If someone was able to get the work done and stand the scheduling pressures, they wanted to keep you. And no, not everyone could stand the pressure or be able to handle the complexity of 5 simultaneous product programs and their 200+ different SW variants and that didn't have anything to do with gender or training.
Systemic problems cannot be solved in silos
I had heard about service design already when working at Nokia and saw it as a solution to the many systemic problems that I had seen. I strongly believe that multi-disciplinary teams working towards a shared goal of customer success is the most efficient way for organisations to a) invent new solutions and b) fix customer issues. However, organisational structures are often preventing this, teams are incentivised wrongly and rarely are decisions made based on data.
Currently, at Gofore I'm responsible for user needs studies, design sprints, innovation, concepting and service design. I like to arrange multi-disciplinary workshops, involve users by applying service design methods.  My eyes shine in the moments when I see teams gathered around a customer journey or customer problem and working hard together to fix it. What I currently want to focus even more on are:
AI and robotics combined with the understanding of human behaviour
helping companies to be more knowledge lead with the help of analytics and data visualisation
building services that bridge the digital and physical realms and, for example, use drama exercises in testing these out
Equal support for your career
My career in tech has taken me to a London park for a morning run, to Texas, Georgia, Poland, Italy, Belgium, and Lapland. Early on I realised that a career in tech would be a much better provider than many of the possible careers in arts. Being a teacher or a librarian would've meant maybe half of the salary. But there's no glory unless you're enjoying it all. For me having a partner to balance the load has been essential. It's not easy having small kids and mom off to London semi-regularly.
I'm a third generation of women with a university degree. But things are not always progressing for the better. My granny had 5 kids and worked in industry as an economist. But unlike many mommies nowadays she didn't even try to shine in every area of life. In the 1950's she had both a housekeeper and a nanny to help her. And in the summer kids were sent to the "farm" out of the way. Today, women try to be perfect on all fronts of life. For me, it's been a life long path to finding balance, deciding what I like to focus on, what I value most, where I enjoy being and not worry about the rest so much.
Keep at it
I was listening to the keynote talks from Charity Wanjiku of Strauss Energy Ltd. and Laura Tirkkonen-Rajasalo of Sulapac at the WiT event on Friday and the experiences felt similar. Don't mind what society is telling you your role or path should be like, you can do it. Perseverance or 'sisu" is key and 99% of achievement is showing up every day and doing the work. Also, don't shy away from new opportunities, it's OK to be scared and by practice, you can overcome your fears.
My motto is from Virkkukoukkunen:
Lentäminen on asennekysymys – To fly is all about the attitude.
Read the previous parts of this Women in tech blog series here:
Passion for continuous improvement
A love for mathematics led the way
Subconscious career design
Value your skills – they are needed in tech
My career in tech – a continuous learning curve
Finding my own material to design
Working as a woman in tech